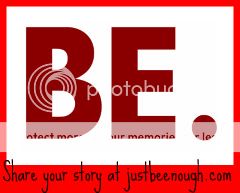 "Imagine feeling taller. Imagine feeling stronger from the inside out. Imagine knowing and BELIEVING that you are strong. It is time to carry the weight of empowerment instead of the weight of our flaws on our shoulders."
These words are from the
Just.Be.Enough
collaborative website: a place where you can read, meet, and talk about the things that we allow to cloud our vision of the miracle that we are.
We are enough.
Today, at Just.Be.Enough,
I have a story of a day recently that had me thinking I needed to be more.
I'm grateful to have a place where I can go work through these thoughts, and along with that and the support of others, feel not so alone when these moments come upon me.
I hope you
click over,
and that after you do, you consider submitting your story of just being enough.
JBE is an amazing community, and I am proud to be a part of it.